We had finally arrived in the north, near Akureyri. Left most of our stuff back home and there we were: just 50 kilometers south of the arctic circle. After some days of getting to know everyone, we got busy. The work was divided between the owners/ our host parents. Dísa was the one managing the guesthouse and the guests, the kitchen (and cooking, shopping, planning), the furniture and decorations… and much more. Her husband Óli was doing most of the work with the horses, renovating, maintenance… and also much more.
Most Icelanders we met were incredibly hard workers. Since the country has been transported from a remote fishing backwater up until World War II towards an industrialized, modern nation, Icelanders are /quite enthusiastic/ about all kinds of gadget: big cars, big TVs, modern smartphones etc. However, prices are steep and thus, the Icelanders work like mad. But it's more than that: because there are so few Icelanders in general, everyone must have more than one job in order to keep the country afloat. In the remote regions like the Westfjords, the population is thin and self-sufficient living is a must.
Working in the guesthouse
But back to Akureyri and the guesthouse. Together with the volunteers and some other employees, Dísa and Óli had been running the guesthouse for some years. There was enough work to do: cleaning room and preparing them for the guests, preparing breakfast and keeping the kitchen open in the evenings, washing, organizing horse riding tours, hosting the occasional party. Since we had arrived in late autumn, the tourist inflow was slowing down, although there were several horse-riding tours every day and we did have guests up until the middle of December.
Host dad Óli had several plans for renovations over the winter and he took another German volunteer and me to help him go through it all. I had never been much of a handyman, let alone being proficent working with heavy tools. But Óli just pushed the tools into my hands and showed me how to go about the work. We ripped out carpets and put down laminate flooring. We painted walls and ceilings, installed electric wiring and internet connections. Not all the work was indoors, we also had plenty to do around the fields and horse pastures that surrounded the house. There were fences to be repaired, bushes to be cut and paths to be cleared. We frequently drove to town (especially the department store).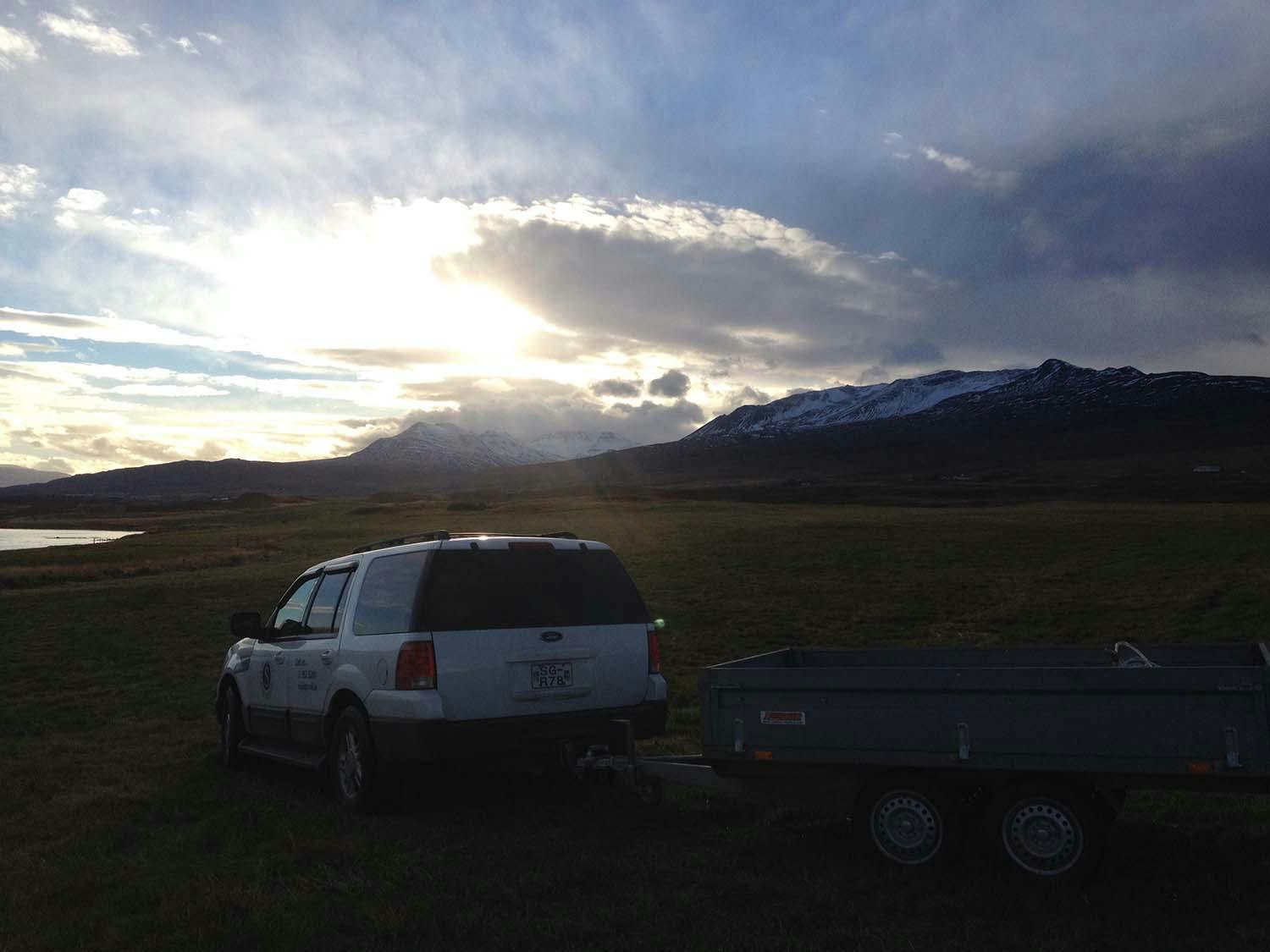 Then came the biggest project: converting the basements into useable rooms. The family had leased the house from the town of Akureyri and several of the basement rooms had previously been used as storage. As it turns out, they were full of debris: old furniture, piles of empty boxes, dysfunctional machinery. We order a large trash container and spend several days just carrying trash out of the rooms. Once they were empty, we stripped down everything that wasn't concrete or pipes, including the floor tiles and several wooden walls that had been installed. I did spend a considerable amount of time with a sledgehammer and a crowbar. Working with tools wasn't hard after all, I just needed some practice and confidence. Compared to my last job, sitting at a desk for 40 hours a week, doing physical work was a welcome change and an opportunity to learn.
Winter weather and swimming pools
For every day we worked, we had a day off and took the time to explore around North Iceland. All volunteers shared a car (we just had to pay for gas ourselves) and we were able to go on tours and drive to town. Winter was approaching fast: you could see it on the mountains, every day the snow would be a bit lower, until we had the first snow in the first week of November. The days had become shorter, between mid-December and mid-January, the sun wasn't visible over the mountain range to the south. It was still daylight, from around 10:30 to 15:30.
The good thing about the north is that the weather is quite stable, so most of the time we had clear skies with few clouds. The days were very rarely overcast and grey, and it was bright enough. The light was …etheral, the sun constantly low and bright, casting a beautiful light over the mountains and the sea. Sometime, there would some distant fog and the whole landscape seemed to glow.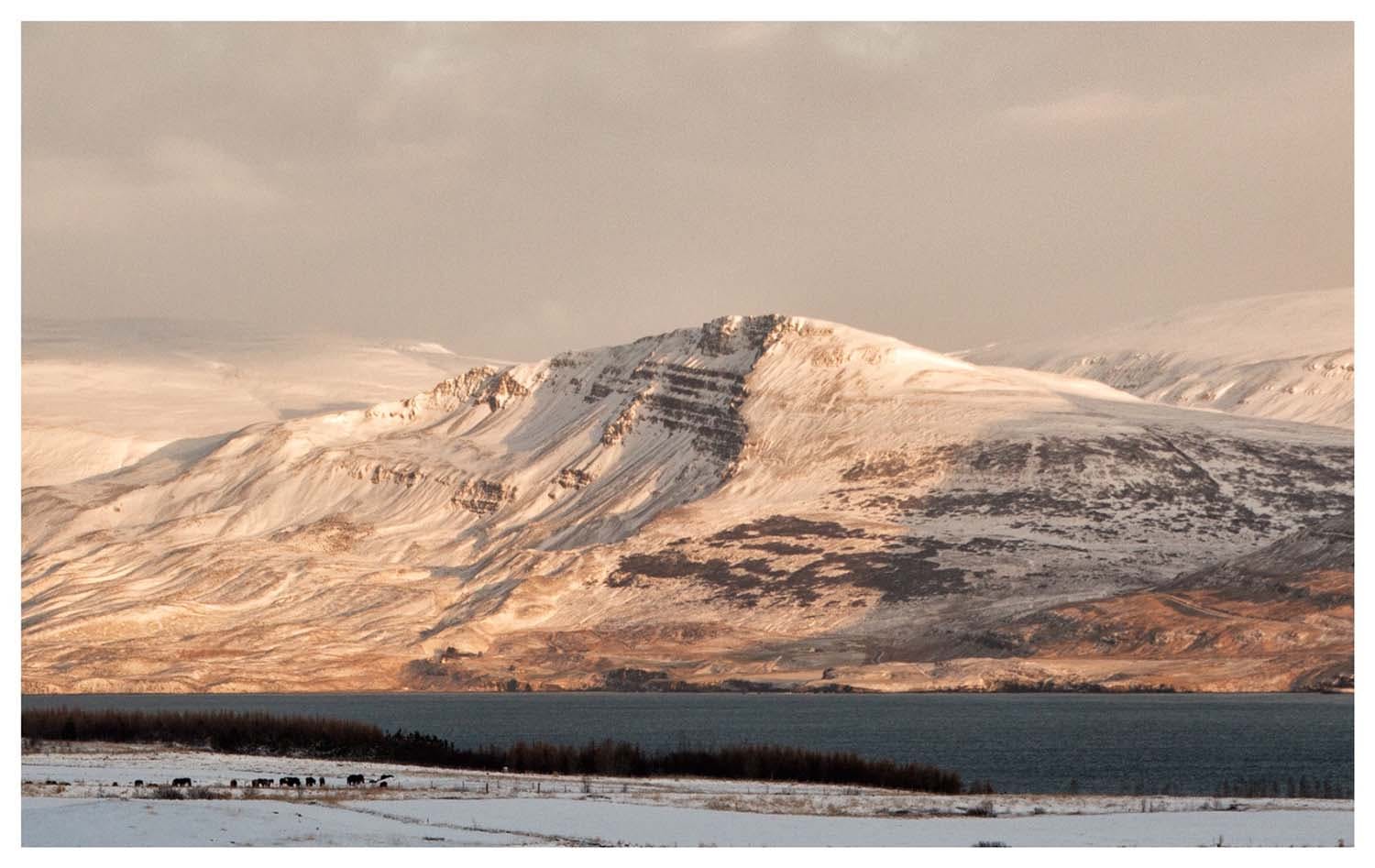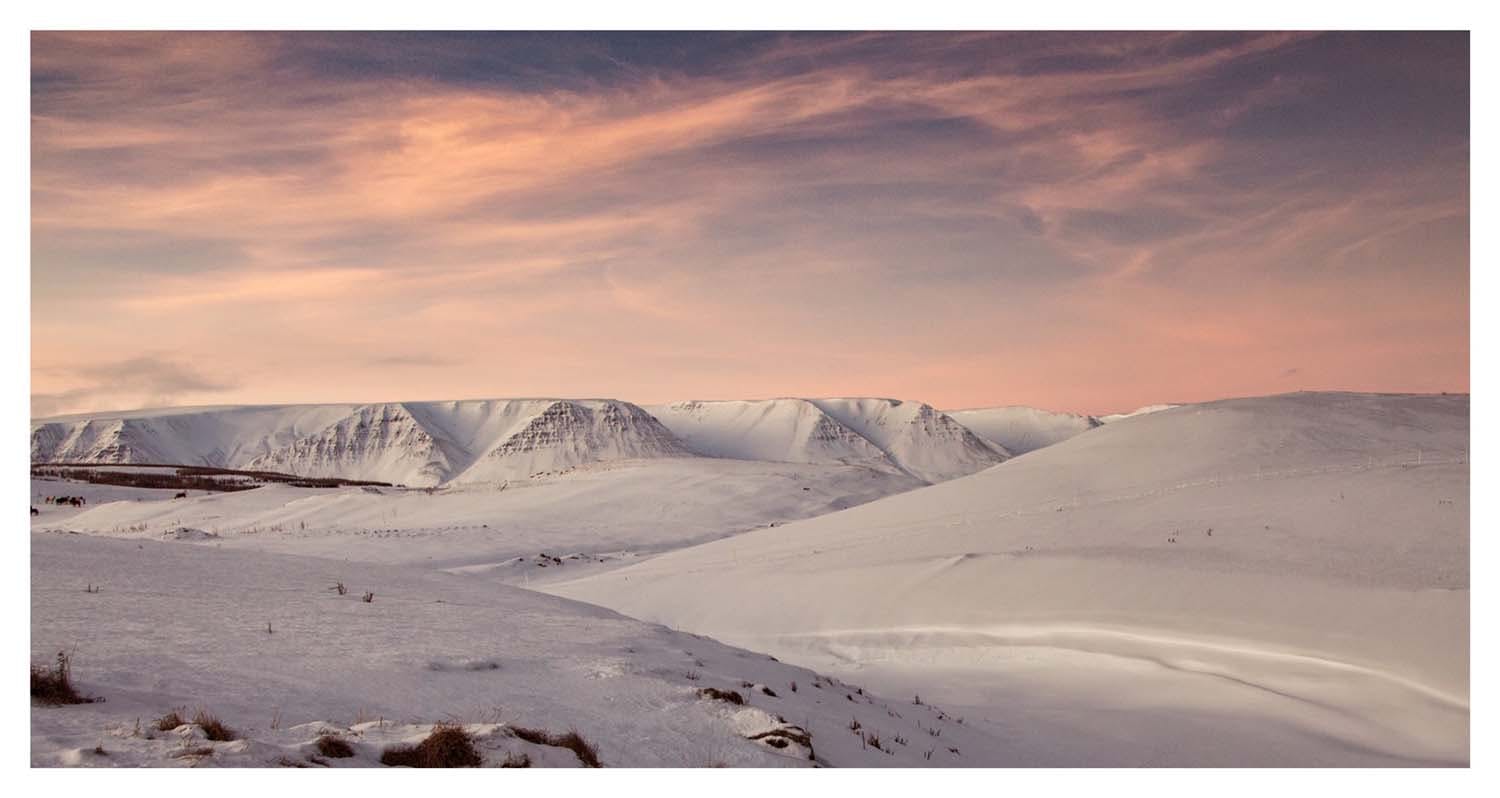 Akureyri is a charming town. We frequently went to Eymundsson, a book store (pretty much the largest and busiest store downtown). They served good coffee, you could read and write or just hang out. It was open all days and seemed to be a major hangout for the locals. The other hangout was the local swimming pool. All the water had at least 32°C, the hot tubs were up to 40°C, there was steam sauna and a huge bucket full of ice water (into which you could lower yourself if you got too hot). Did I mention it's all outdoors? But be it snowing or 10°C below zero, we went to the swimming pool multiple times a week. Afterwards, we'd often stop at the ice cream store. Icelanders are mad for ice cream: you'd order a basic serving and top it up with sauces, flavors, nuts, chocolate and fruits. Delicious!
Snow storms
In the beginning of December, we were hit bit a huge snow storm and had about 1m of fresh snow over the course of 2 days. We stayed safely inside and watched the storm through the windows. In the town of Akureyri, they don't clear all the roads all the time, instead everyone drives on spiked wheels and uses spikes on their shoes (we started to do so as well). In this regard, working inside wasn't too bad.
There were several more snow storms, one right after Christmas when our friends from Germany came visiting. They got stuck on the road 1 and communicated with us via SMS — we then informed the police who drove up in a huge jeep and got them out.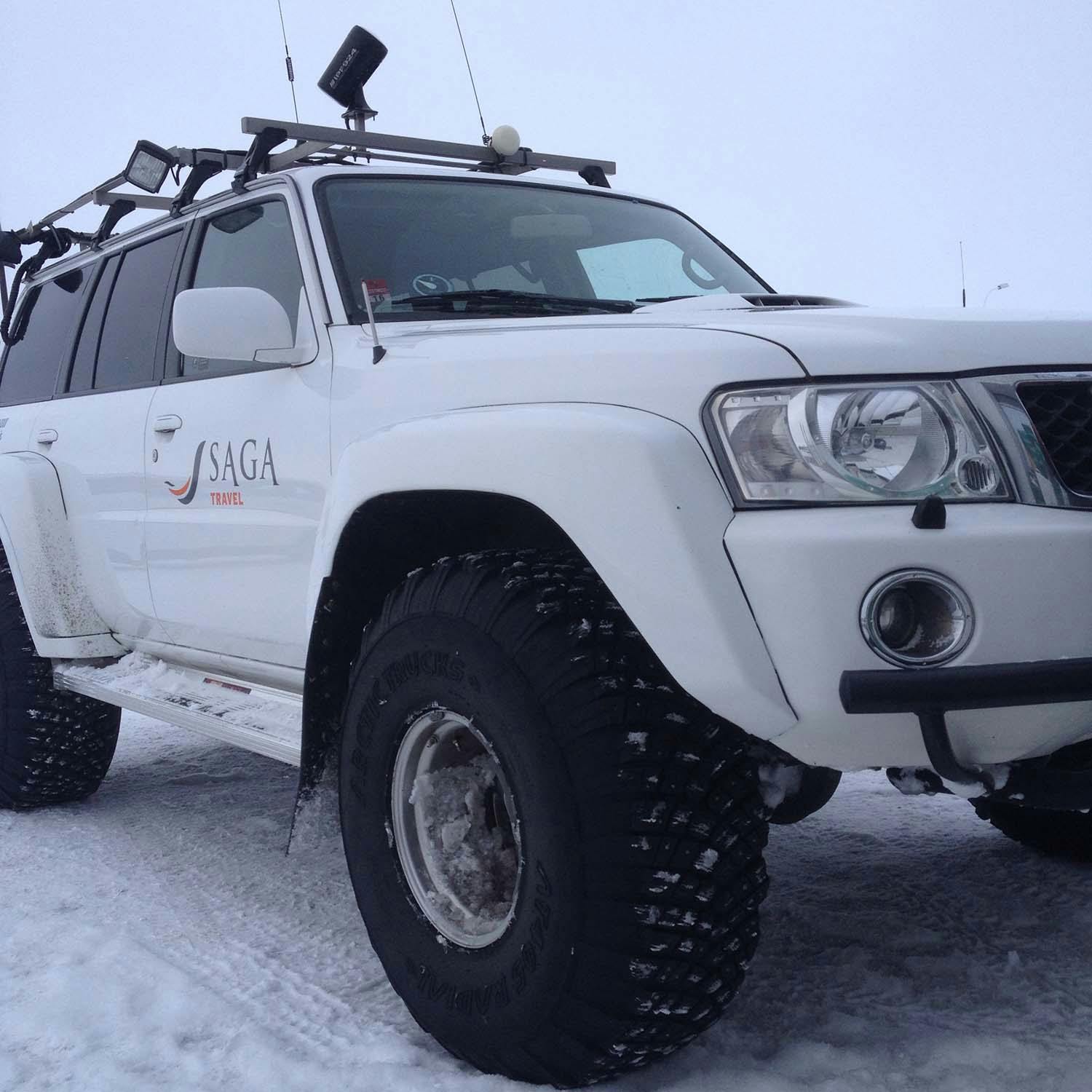 The storm was so severe that one of the doors of a little outdoor showers was ripped loose and threatened to fly into the house. We had to go out in wind speeds of over 80km/h and take it off completely, which was quite daring.
The storms can cause serious damage, but Icelanders are used to them. They live with the nature, and because they have so much beautiful landscapes and natural events, they also accept the bad sides like heavy weather, serious storms and volcanic eruptions.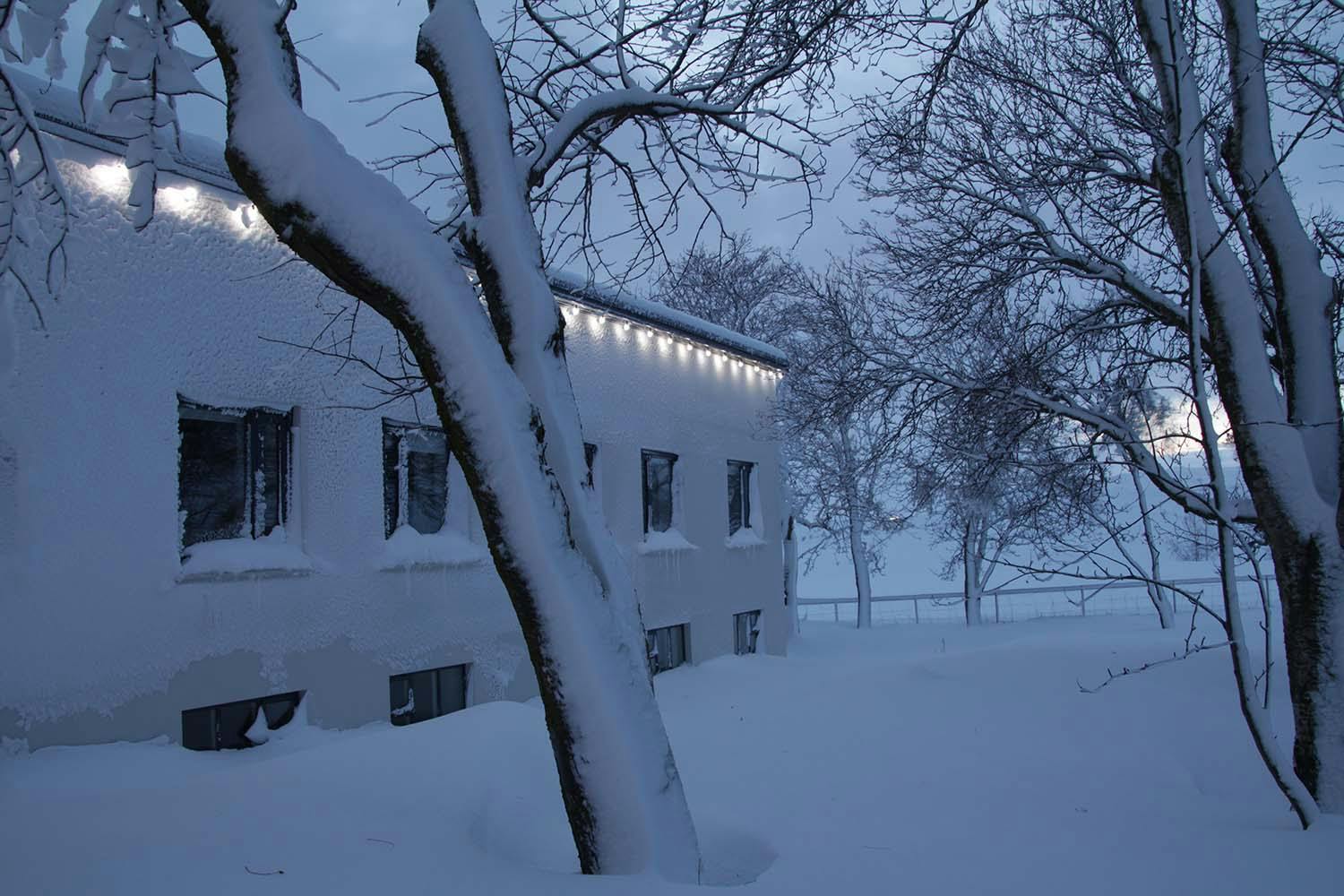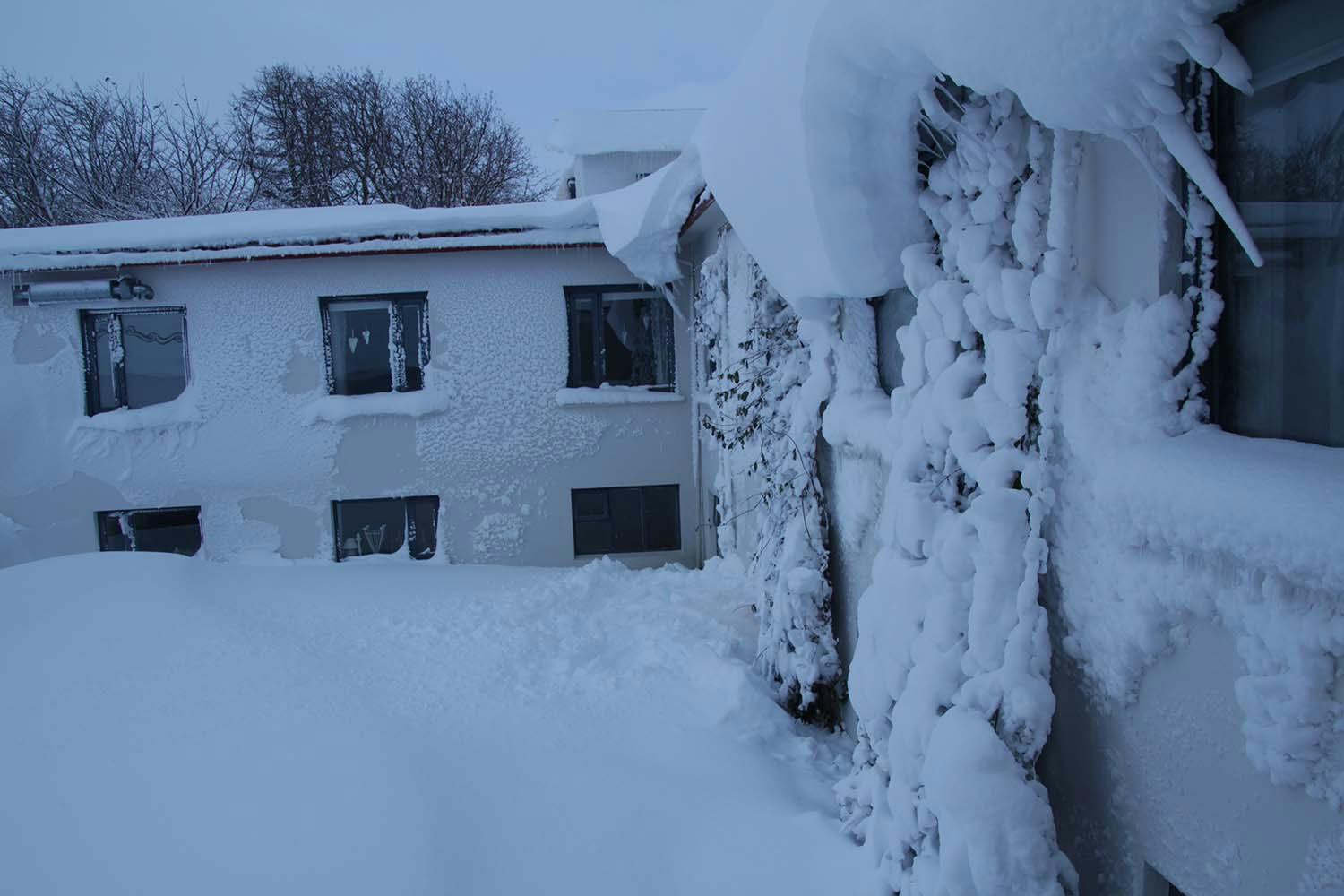 Exploring the east
When we explored the country, we'd frequently drive over to the Mývatn area, about an hour to the east. The area was formed during a volcanic event barely 2300 years ago and is full of interesting places. There is the Mývatn lake itself, dotted with little islands and right next to it you can find cool lava formations at the Dimmuborgir area, a large crater called Hverfjall (looks like the picture book definition of a volcanic crater) and other geological active sights. Here, you can also find the best alternative to the Blue Lagoon, the famous spa near the Keflavík airport. It's called Mývatn Nature Baths, and when we went there in November, we were the only guests.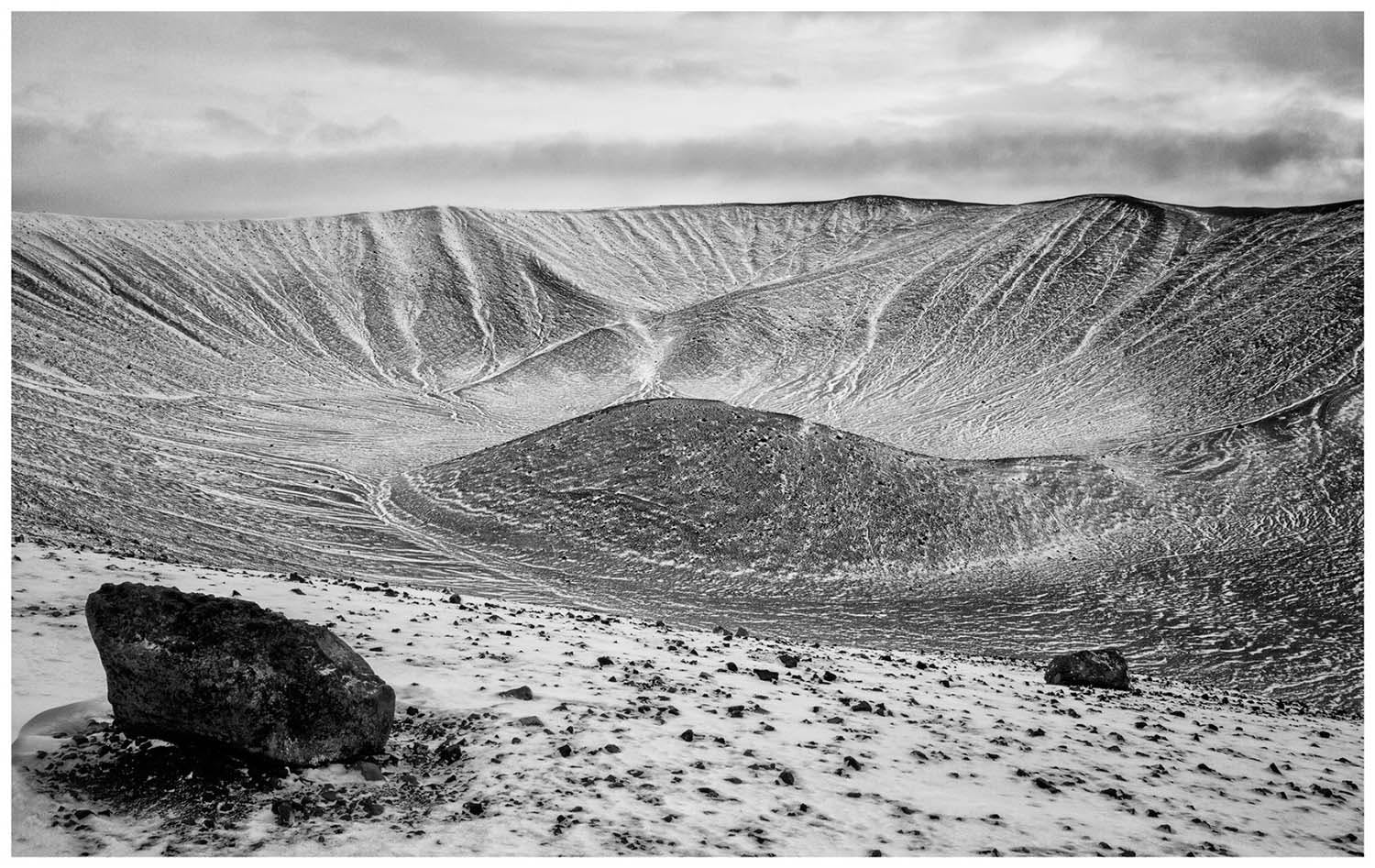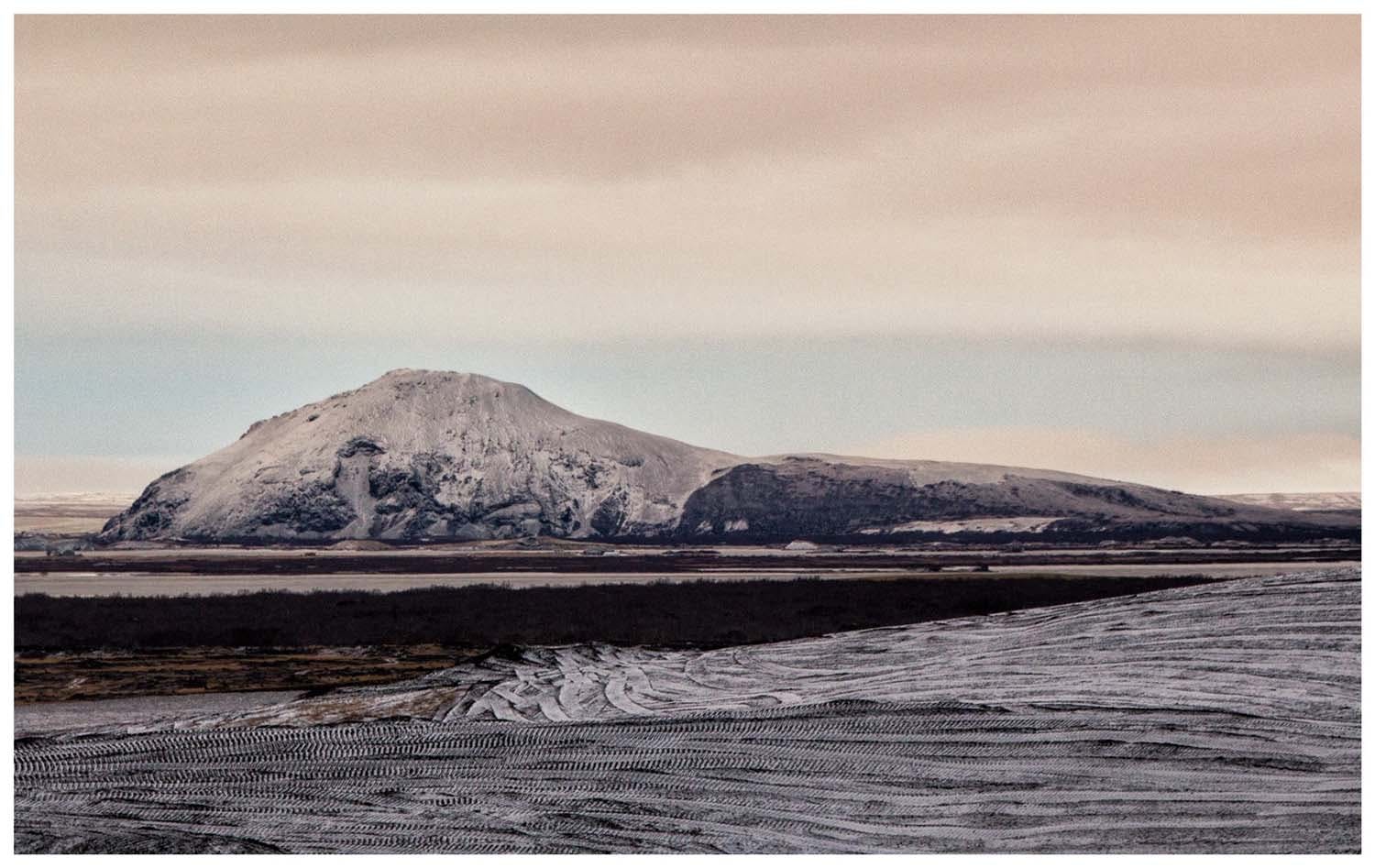 Language class
Twice a week for some weeks we went to Icelandic language class, which was sponsored by our host parents. Our group was interesting: four Germans, a French couple and a teenager from Peru. Our teacher Anna was a performance artist, but as most Icelanders, she had more than one job. Luckily, her husband was German and her son-in-law from Cuba, so we had a merry multi-language class in German, Icelandic, English, Spanish (the guy from Peru didn't speak English) and sprinkles of French. We had a lot of fun! The language isn't easy, but it's relatively close to German in grammar and sentence structure. Once you get over the basic pronounciation, it's just a matter of finding the right cases (of which there are four) and gender and time… OK, the grammar is hard. But it's rewarding to be able to say Eyjafjallajökull and Svalbarðsstrandarhreppur more-or-less correctly in one go.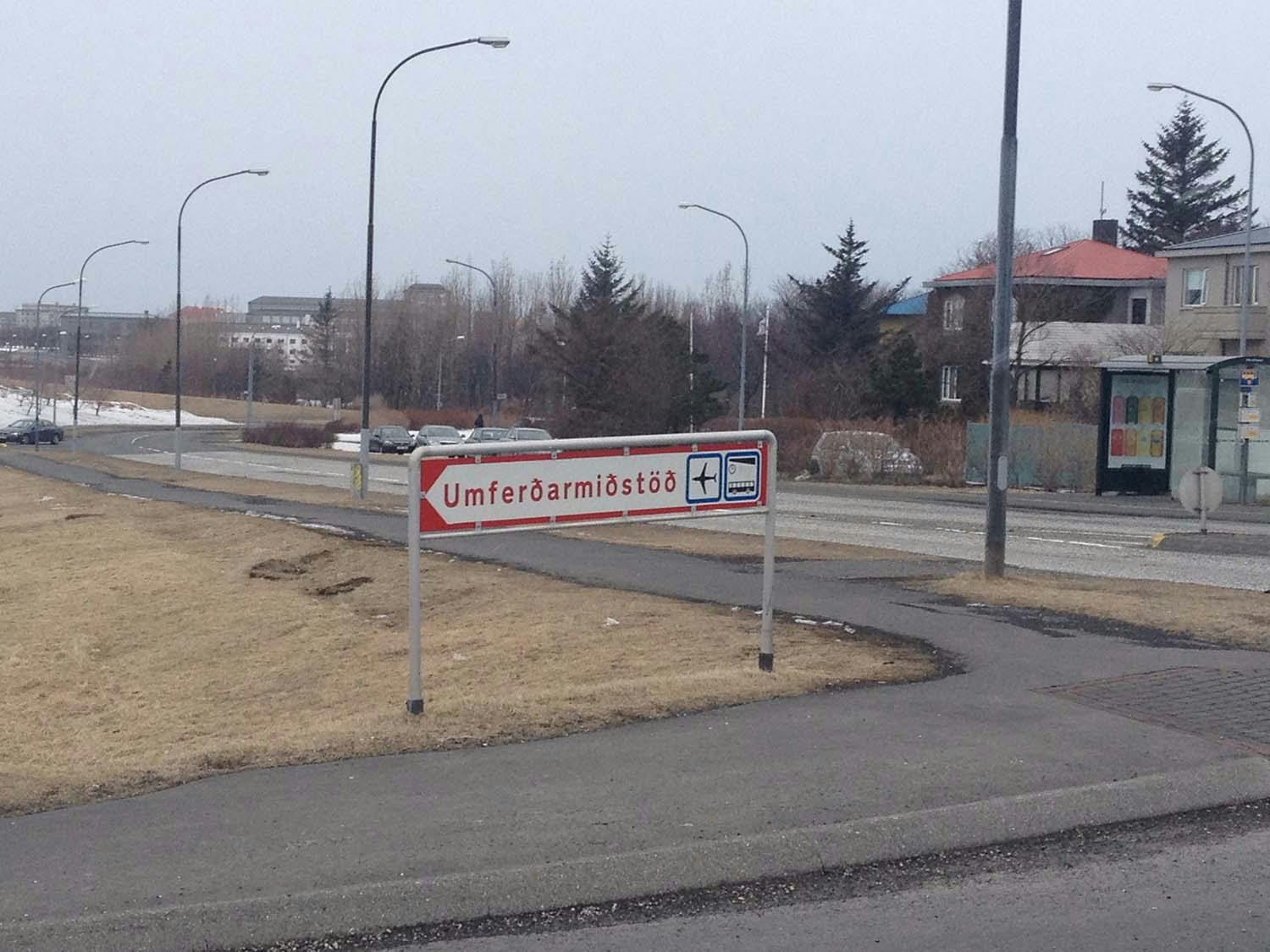 For some weeks over Christmas and New Years, the family left to go on vacation on Tenerife, and my girlfriend and I stayed together with the other German volunteer. We cared for the dogs, looked after the horses (who were happy standing outside) and prepared for Christmas.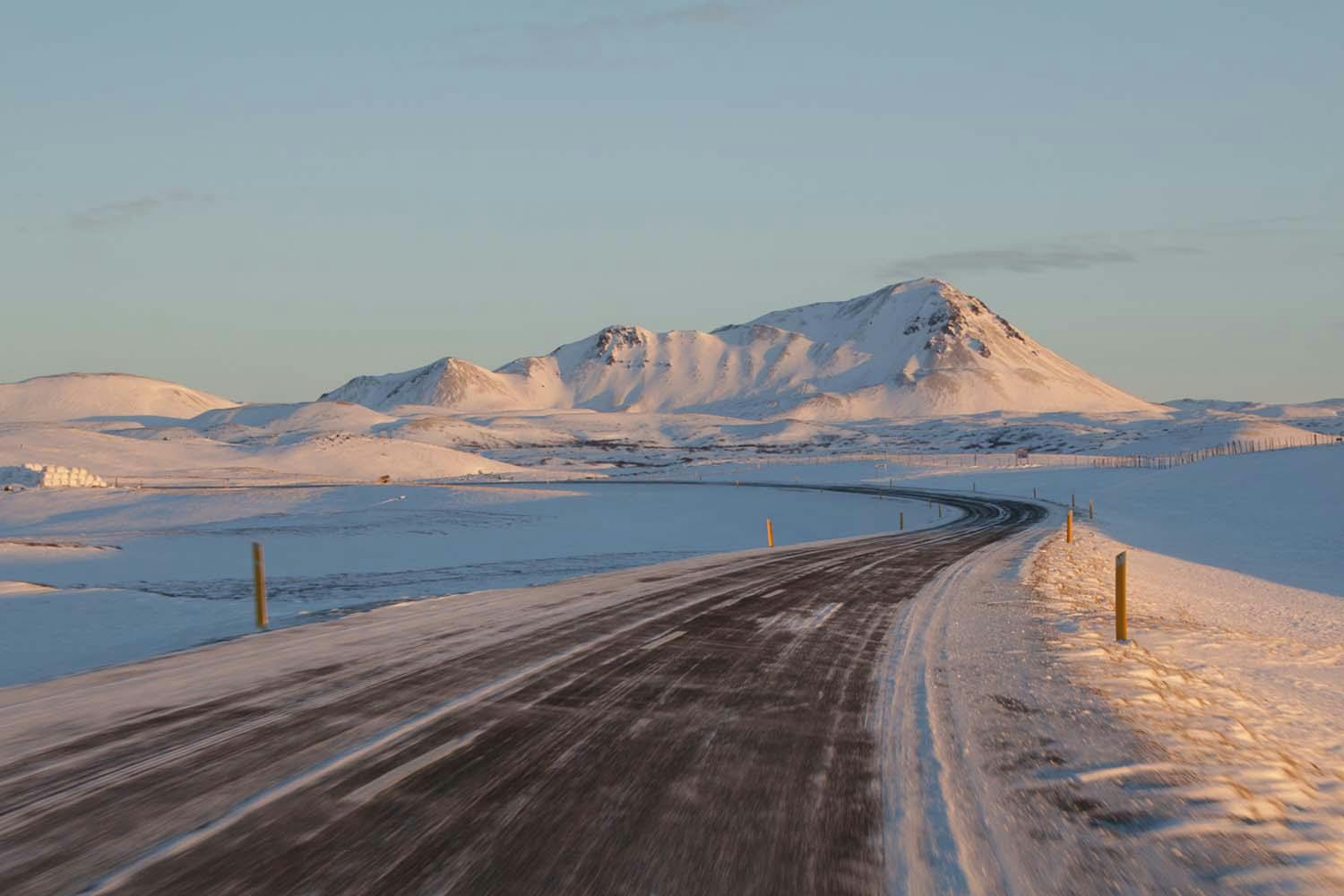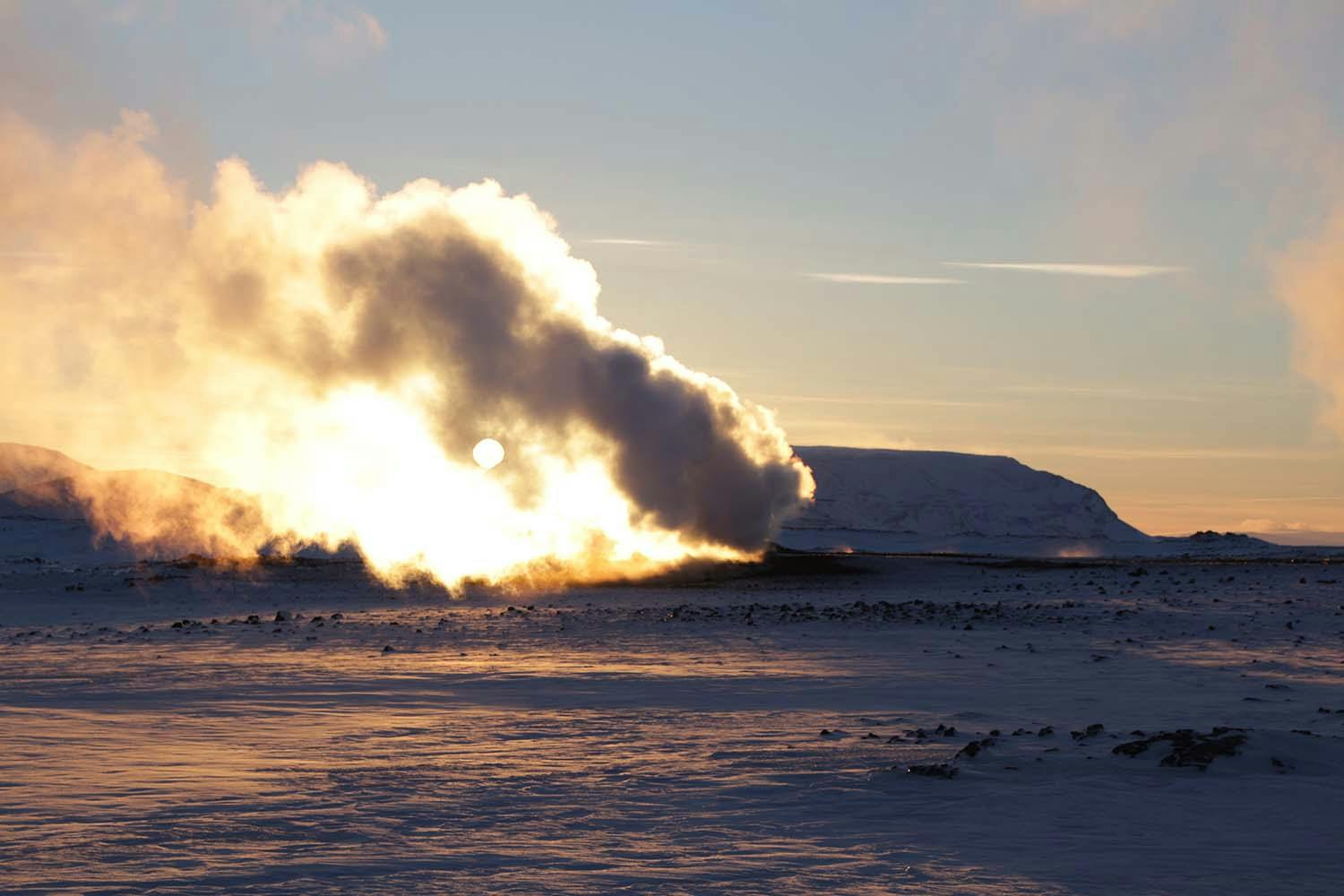 Concerts
Some evenings, we would go to a small venue in Akureyri, a bar where all sorts of Icelandic artists would play. The coolest concert was seeing our favorite Icelandic band, Sólstafir, play there. The last time we had seen them was in Germany in a larger concert hall, with 1500 people. In Akureyri, there were maybe 200 and everyone was sitting down. We had the table right in front of the stage and it felt like sitting in a living room. The concert was fantastic, afterwards we talked with the guys from the band. They were friendly and approachable, very Icelandic. As mentioned before, when everyone can do more than one job, artists and politicians and "celebrities" are just more of the normal people and you might easily find some of them sitting next to you at the hot tub.