The year was 2014, sometime in December. I knew that my current work contract would run out in September of 2015, roughly nine months from then. My girlfriend was living 250km away from me and we only saw eath other on the weekends.
While the work I was doing was alright for most of the time, I wanted to get out. I don't want to go into the reasons here, but long, content-less meetings were a big part of it.
The search
I started to look for opportunities abroad. Internships, volunteering work, something that would have some purpose and, presumably, is in a great natural environment.
That is when I happened upon the site → workaway.info, which is exactly that: a platform to find (and offer) volunteering work all over the world. Be advised: this page might trigger instant wanderlust.
Just at a quick glance, you can find homesteading in Virginia, dairy farming in Turkey or designing stand-up paddling boards in Vietnam.
The idea behind workaway.info is simple: you get in touch with a host (which costs a small one-time fee for 2 years) and then you arrange a time to stay at their place and help with the work. For each day of work, you get one day off; plus, the hosts care for food and lodging. Volunteers stay for anything between few days and years, depending on the work available.
I was fascinated by the wealth of opportunity. As a fan of Northern European countries, that's where I looked first. I had been traveling through Denmark, Sweden and Finland as well as the Baltic countries a few years prior and sworn to return.
My girlfriend and I made a decision: after my contract would end, we would go volunteering for at least half a year. She was looking for alternatives to her current post-grad university job anyway and hadn't had the pleasure to work abroad yet. We started to look closer at possible hosts, some in Norway, some in Sweden and contacting people over the platform.
If you have been reading closely, we were planning on going for six months, starting September.
That meant winter. Winter in northern Europe. Dark, cold, snowy winter.
Well, why not.
The problem was to find a host that was actually active in winter. There was no farming to be done in the winter, less outdoor activities (which turned out to be wrong), less of public life.
That was when we happened upon Iceland. A country that had evaded my radar for too long. I knew it existed, that there were volcanos (Eyjafjallajökull had the world on its toes in 2011) and that the capital was called Reykjavík.
But Iceland has over 200 hosts on workaway.info — young families looking for help on their farms, elder couples that need a housekeeper and many others.
Lots of Icelanders are drawn to the capital city as knowledge workers. The countryside, never a busy place, is constantly losing inhabitants. That opens a lot of opportunities for foreigners to work and help.
It's a nice model for the hosts, too. Volunteers don't need to be paid and it's much easier to have an extra bed and feed an additional mouth than to actually employ a helper.
This has caused significant trouble with the local unions nonetheless and there is an ongoing debate on how to handle this fairly.
But the beginning of 2015, we didn't know about all this yet. All we did was to contact several families, for instance, the owners of a convenience store on → Hrísey, a tiny island in the north, and the owners of a guest house near Akureyri.
This last posting seemed to be a good match: they were looking for some helpers in the guesthouse and for the horses, and the boss needed someone helping in renovating the house. A good match, as it turned out, for us as a couple.
In the beginning of 2015, we skyped with the owner Dísa and she told us about the work that was to be expected. It sounded great, especially in comparison with our current jobs. At the end of the call, we agreed on coming over in October and staying for some months. Dísa also offered us to "care for the house over Christmas and New Year's", when the family was planning on going to Tenerife for winter vacation.
A small tangent: my fellow Germans have a small, but persistent paranoid trait. You don't just trust strangers, lest they might take from the fruits of your hard labor. It might be one of the reasons why we, as a rich nation, seem to be unable to effectively deal with refugees in a humane and meaningful way. Germans need some kind of proof for everything. As long as you can offer a certificate or a report, you are much more likely to achieve anything. I guess that trust just doesn't come easy.
In contrast, there was a woman we had just met online and she asked us if we were willing to take care of her guesthouse for two weeks in winter. Were we ever!
It was the first moment that I sensed that I would like the attitude of Icelanders very much.
We agreed on October and staying over the winter.
The learning
When I'm presented with a new opportunity and/ or challenge, my first instinct is to look for books. Fortunately, Iceland is a nation obsessed with reading (and writing), so there was plenty of material.
Books about Iceland itself, about the nation, the people, the history and of course, novels set in Iceland. The more I read, the more I was drawn in: despite there only being a little of 300'000 Icelanders, they manage to keep the whole country running, including a national government, local authorities, international and national sports teams, musicians, writers, artists, businesses and shops, gaming studios and tourism sector.
Weirdly, the country itself was sort of yanked out of the late middle ages after WWII, when the USA kept a military base on the south-western tip of the island. Since that time, the population has almost tripled (from around 130'000 to ~340'000 today) and the nation has spent 60 years catching up on modernizing everything (with interesting results, as you will see later).
While I wasn't reading, I spent a considerable amount of time on Google Earth and especially Street View.
Isn't it crazy that you can drive along all the roads and see pictures of the country from your computer? Not just tourist pictures, but every single road?
As I like languages, I also started to look into learning Icelandic. There are quite some resources online (again, how fantastic is that: information right at your fingertips, and for free, too), from the University of Reykjavík and other initiatives that make it easier to get into the language.
One of my favorite music groups, Sólstafir, hail from Iceland and sing almost exclusively in Icelandic. Reading poetical Icelandic is quite the challenge, but at least I could get used to the sounds early on.
October was still far away and we were getting impatient.
Maybe we should actually go to the country in which we planned to stay?
The next opportunity was going there over Easter and that's precisely what we did. We planned to go to Reykjavík for 5 days and get our feet wet in the Icelandic snow and hot water.
Iceland, a teaser visit over Easter
Late March approached fast and we boarded the plane from Munich to Keflavík Airport. We had packed our winter clothes (rightly so) and our swimsuits (good call as well).
Landing on the airfield in the middle of a black lava environment with white snow, Icelandic music in the ear, is a moment I will remember for the rest of my life.
From the airport, we took the bus to Reykjavík and walked to our hotel.
It took a while for the owner to open and we were shown to our room. Just as he finished showing us around, the owner asked if we could open for the next guests, since he had to run some errands.
There it was again: the immediate, positive and heart-warming trust that Icelanders show.
Of course, we didn't mind and when the next guests arrived, we showed them around, telling them about the situation at hand.
The next day, we had booked a car to drive around the Golden Circle, a day tour of famous sights near the capital. It includes the site of the National Assembly in pre-modern times, called the Þingvellir (pronounced "thing-vet-leer"), the geothermal area of the Geysir and the huge waterfalls of the Gullfoss.
"Everything will be alright"
The day, which was Good Friday, started off with a challenge: we had to find the car rental place.
They were supposed to be at Reykjavík downtown airport and we spent some time searching at the wrong entrance. Once we found the place, the car rental station consisted of an empty desk and a loose telephone cable coming from the wall, with a sign that said: "Opening soon".
It didn't look like "opening soon" would be on this day, so we called the number below and were connected to the car rental place at Keflavík, some 40km away. They eventually send someone over to pick us up. As it turns out, they just hadn't finished the desk before Easter and so we were being driven into the industrial area of the city where the other branch of the rental company was.
Lesson learned: Icelanders say "Þetta redast", which means "everything will work out".
We asked about how to return the car (since the branch in the industrial area wasn't exactly easy to reach from our hotel) and they told us to just park the car in the city and they would pick it up from our hotel the next day. Þetta redast.
Finally, we were off to the Golden Circle, leaving the city behind. The weather was interesting, to say the least. Not far from the city, the road goes into the mountains for a bit and we were right inside winter driving conditions: snow and ice on the street, our sight hindered by falling snow and low-hanging clouds. Lesson learned: the weather can and will change within 5 minutes and 5 kilometers, from friendly to complicated.
No matter how badly we thought the weather was, it didn't deter some Icelanders to go running on the street. At -2°C and constant sleet.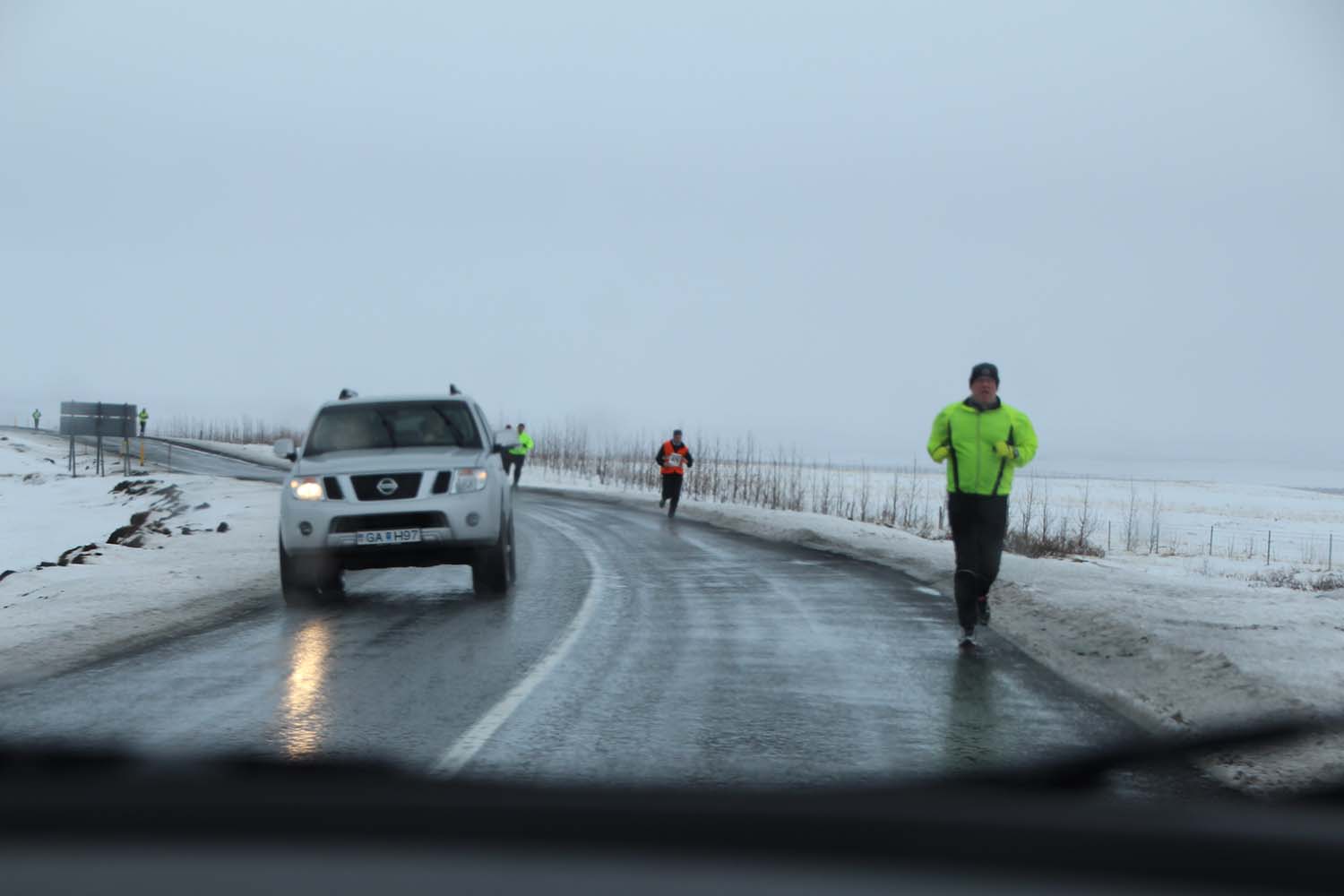 Luckily, everyone else was also driving rather slowly, so we could visit the attractions on the Golden Circle without many problems.
In the winter, many roads are not cleared from snow and are actually closed by authorities. Sadly, our navigation system didn't have that info and tried to guide us through several closed roads, so we ended up following the street signs instead.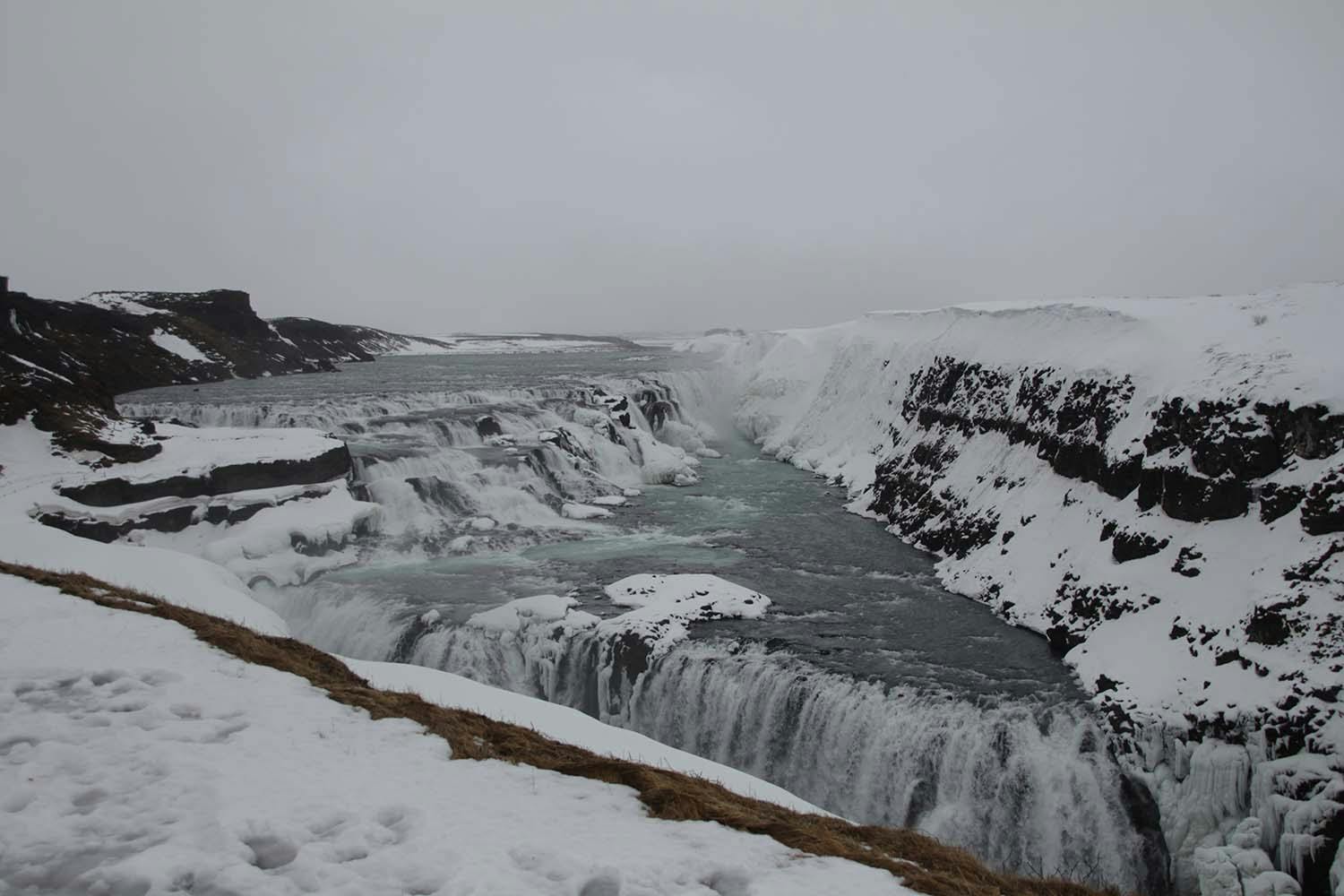 Iceland presented us with her best wintery side: at the Gullfoss, we had horizontal sleet and howling winds, at Þingvellir icy rain and slippery ground. But we prevailed.
The Geysir area was full of tourists. Every couple of minutes, the geyser called Strokkur is blowing a hot water fountain 5 meters into the air.
Even on this day trip, we were impressed by the beauty of the country, everchanging: mountains that end right at the sea, steam rising from the earth, raw waterfalls and rifts in the earth and frozen lakes.
In my mind, the rough lava fields looked like a giant construction site, as if someone had excavated all around the countryside, piling up the black earth (only that it was black lava stone, covered with white snow).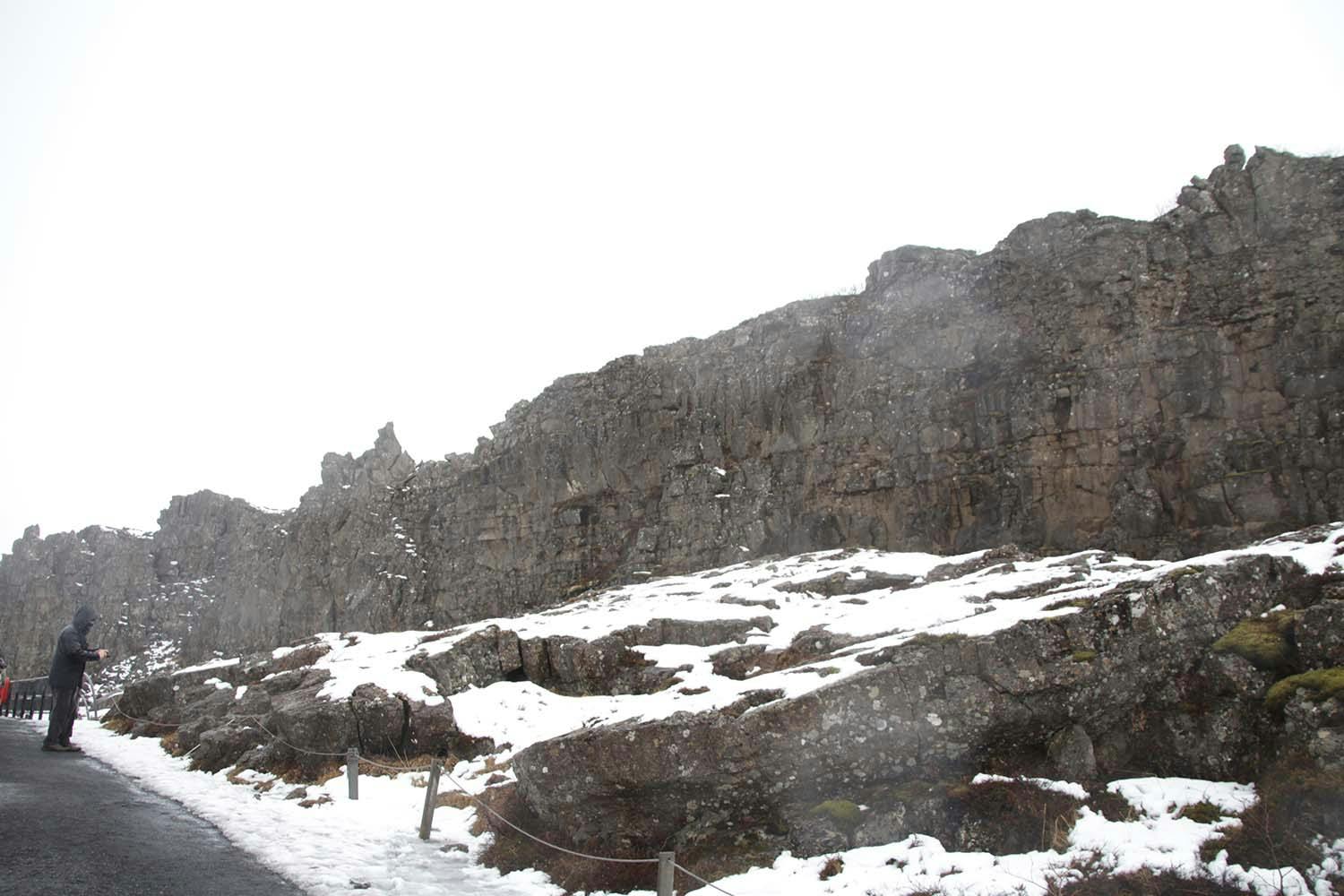 Iceland in the winter is a country of black and white, except for brown patches where the geothermal heat melts the snow and steaming rivers expose the ground.
After we had seen the sights, we drove towards Selfoss.
Since I knew that going to public swimming pools was a favorite past time, we randomly stopped in a small village and asked a group of Icelanders for the local pool. Yes, there was one and yes, it was open on Good Friday at 5 pm.
It's easy to understand why this is an important part of the culture: we had been outside for the day, facing different varieties of wintery precipitation and the car was only able to warm us up to a certain degree.
We drove to the public pool and paid the small fee. There were only a 25-meter swimming pool and two circular hot tubs, not many people scattered around, all outdoors of course.
The hot water was heaven, perfect to get the heat back into the body and to relax. The air was fresh and clear, our minds full of the impressive landscapes we had seen all day. Maybe that's the moment we both truly fell in love with this country.
The next day, the guys from the car rental place actually came over and picked up the car. We wondered why we worried so much in the first place. It might not seem totally organized (to the German mind), but it does work out wonderfully, in the end, a lesson that we repeatedly learned later on.
Reykjavík City
The rest of the days we spent exploring the city on foot. Reykjavík has a rather small city center, the quaint shopping street of Laugarvegur and some fun museums. It is not a city to stay for a long vacation, but it has its charms.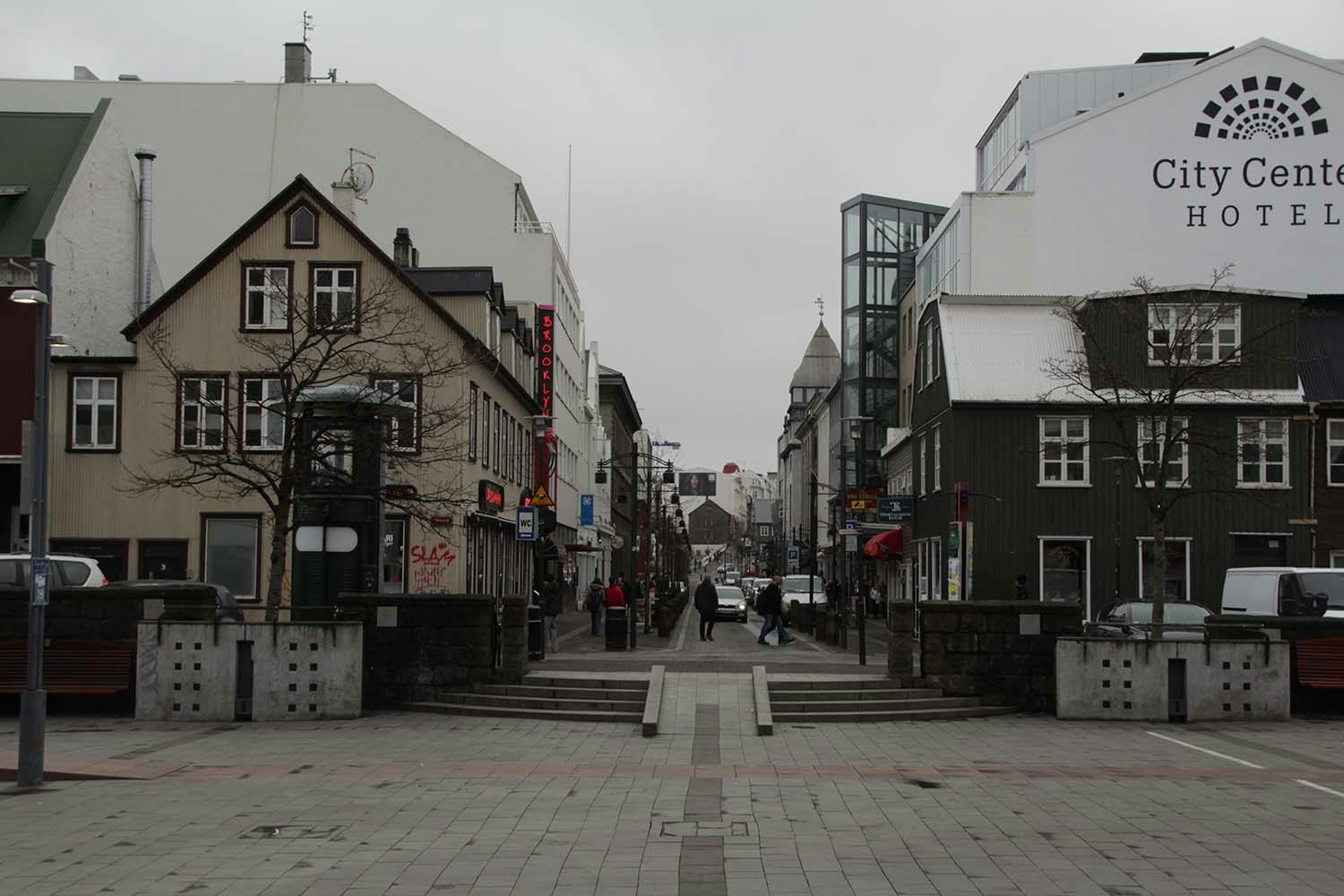 One afternoon, we got a call from a friend, who had stayed in Reykjavík some months prior and who had left her favorite jacket behind at the place she couch-surfed. She asked if we could retrieve it, so we knocked on the door. The guy who opened was the roommate of our friends' host. He was a little confused at first since his roommate was a music festival in the Westfjords and hadn't told him. But as we knew by now, things will work out. We got the jacket, which seemed to be the only girl's jacket in their flat.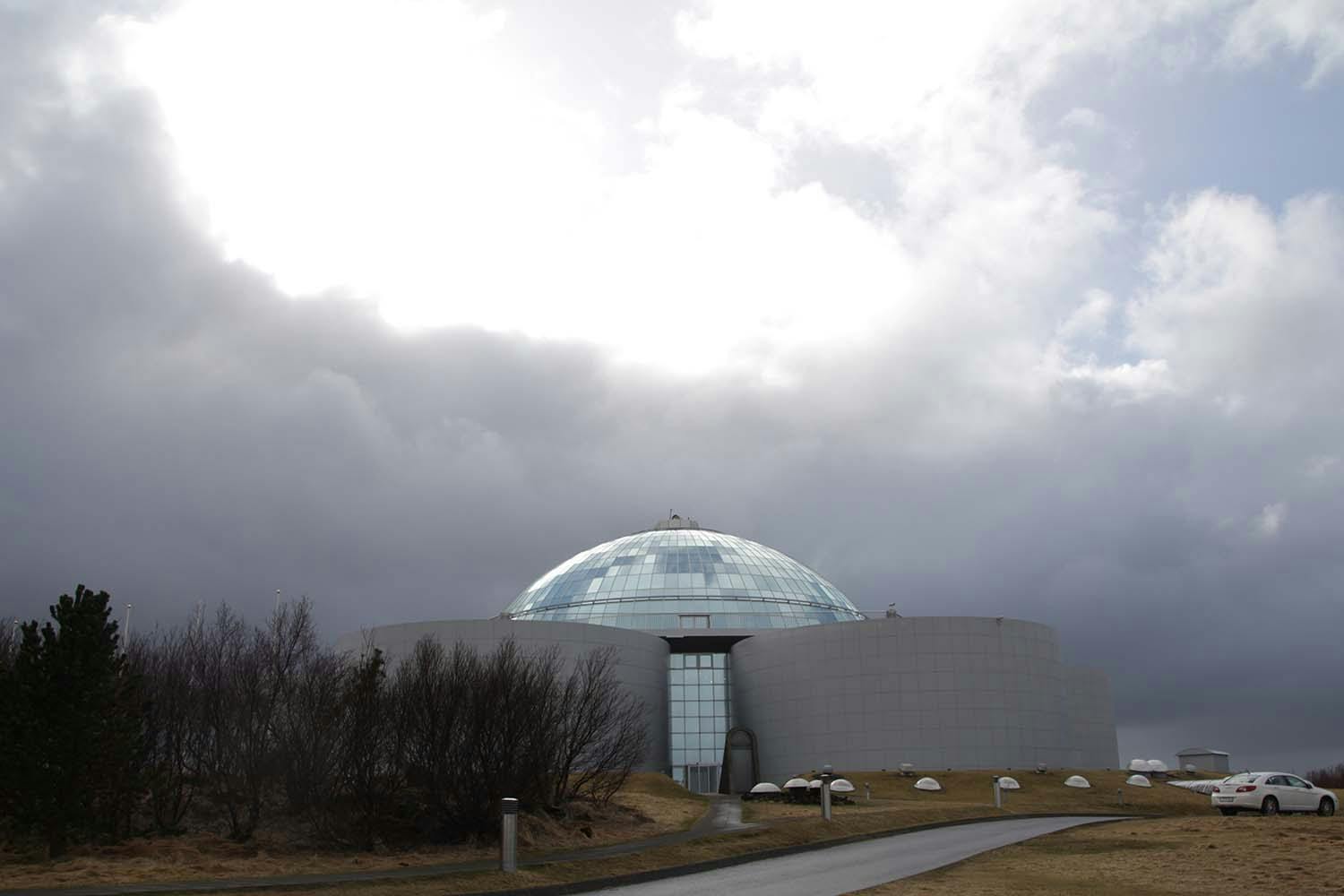 Returning for now
After the days were over, we had to return home, although we had only had a small bite and were hungry for more.
Until October, there was some more work to do. We said goodbye to the lava fields and the snow, to this land of ice and fire, promising to return in half a year.
In the next episode, I'll tell you about what happened in October: endless gravel roads and more heart-warming friendliness, as well as our arrival in Akureyri.